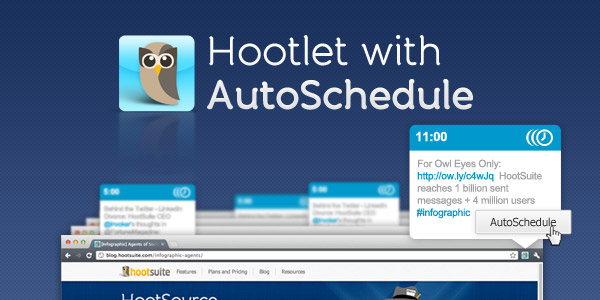 We often use Hootsuite to manage our Facebook and Twitter posts, and with its Hootlet button and AutoSchedule feature, social media gets even easier.
The Hootlet button, available for Chrome and Firefox, sits in your browser bar. When you come across a page you want to post about, click the button, and a new window pops up with a shrunken URL and space to compose your message. You can then choose to post to Twitter, Facebook, and any other account you have linked to Hootsuite.
Schedule your post to go out when you want it to, or click AutoSchedule, and Hootlet will determine the optimal time to publish your message so it reaches the most eyes. When you visit your Hootsuite dashboard, your Hootlet messages will appear in your scheduled posts queue.
The best part? You can do all this without having to navigate away from the webpage you're on, or worry about copying, pasting, and shrinking URLs, since Hootlet does it for you. Posting to your social media feeds becomes quick and seamless.