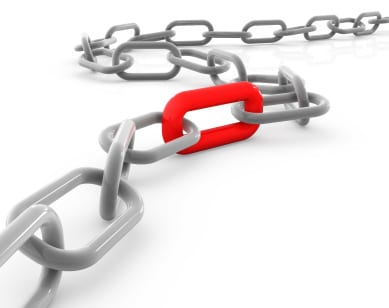 The web is made up of a matrix of inter-linking sites. Many factors influence your website's search engine ranking, and links pointing to your site from credible sources is one of them.
At a very basic level, search engines view a link from one site to another as the first site "voting" for the second. Votes are good because, just like in an election, they can signal popularity, trust, and credibility. But it's not just the mere presence of links that matter—the quantity and source of these links are important as well. Are they from spammy sites or reputable domains? Simply put, in Google's view, trusted sites point to other trusted sites, and this trust factors into search engine rank.
If you're considering a link-building campaign, start by analyzing your current "linkscape" in the following ways:
Quantity: How many links do you have?
Quality: Are these links from sites with relatively high domain authority?
Anchor text: Do the links pointing to pages on your site include words you'd like to be known/searched for?
Google Analytics and Webmaster tools are good, free ways to find answers to these questions. But since every online search is a competition for clicks, it's equally important to understand what your competitors are doing. Gaining insights into their link profile not only helps benchmark, it may also help guide your link-building strategy.
Unfortunately though, competitive information can't be gleaned from Google Analytics or Webmaster tools. While no one tool is perfect for this, here are three free tools to help you evaluate your competition:
1. Ahrefs: This site is quite comprehensive and the newest of the three we'll discuss. It offers detailed link analysis, and is a particularly good site to help with "link cleanup" (the process of identifying and eliminating spammy links pointing to your site). It also is helpful to monitor the growth of link-building campaigns, both your own or those of your competitors. The free option allows you 500 results (per requests), and 15 requests per day, but a monthly subscription provides substantially more advanced tools and analytics. In addition, the user interface is clean and easy to navigate. Here's a sample report from their site:
2. Open Site Explorer: Open Site Explorer is a good place to start for basic link analysis. Powered by SEOmoz, this tool gives you quick and easy access to link data such as domain authority, pagerank, and link quantity. It also offers a quick tool to compare link metrics against competitive sites. For example, in our office there's an ongoing debate about "Apple" vs "PC" (what can I say? Finance people and creatives are different breeds). Here's an example of that comparison report (ahem, you can see who wins):
3. Majestic SEO: This site is often praised for the size of its index (upwards of 3 trillion), which is significantly larger than Open Site Explorer. The free version of Majestic SEO offers detailed link information, but unlike its competition, Majestic gives you archived historical data—a plus for many marketers. It's also good for monitoring mentions—recent links pointing to you or your competitors (included in the paid version). Here's an example of a free link report pulled from Majestic:
So there you have it: three free resources to get you started with link analysis. Do you use any of these tools? Which do you prefer? I'd like to hear from you.